Overview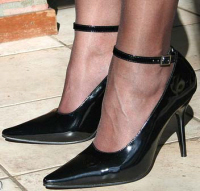 A bunion is a bony bump that forms on the joint at the base of your big toe. A bunion forms when your big toe pushes against your next toe, forcing the joint of your big toe to get bigger and stick out. The skin over the bunion might be red and sore. Wearing tight, narrow shoes might cause bunions or might make them worse. Bunions can also develop as a result of an inherited structural defect, stress on your foot or a medical condition, such as arthritis. Smaller bunions (bunionettes) also can develop on the joint of your little toes.
Causes
The commonest cause of bunions is prolonged wearing of poorly designed shoes such as the narrow high heels that women wear. This is one of the reasons why bunions are much more common in women than in men. There is also a hereditary component to bunions in that many times we will see a grandmother, mother and daughter all with various stages of bunions. 38% of women in the United States wear shoes that are too small and 55% of women have some degree of bunion formation. Bunions are 9 times more common in women than they are in men.
Symptoms
The most common symptoms of foot bunions are toe Position, the toe points inwards towards the other toes in the foot into the hallux adbucto valgus position and may even cross over the next toe. Bony Lump, swelling on the outer side of the base of the toe which protrudes outwards. Redness, over the bony lump where it becomes inflamed. Hard Skin, over the bony lump known as a callus. Pain, it is often painful around the big toe, made worse by pressure on the toe and weight bearing activities. Change in Foot Shape, Your whole foot may gradually change shape for example getting wider. Stiffness, the big toe often becomes stiff and may develop arthritis. Foot bunions are more common with increasing age. They develop gradually overtime from repeated force through the big toe and left untreated, become more pronounced with worsening symptoms.
Diagnosis
Before examining your foot, the doctor will ask you about the types of shoes you wear and how often you wear them. He or she also will ask if anyone else in your family has had bunions or if you have had any previous injury to the foot. In most cases, your doctor can diagnose a bunion just by examining your foot. During this exam, you will be asked to move your big toe up and down to see if you can move it as much as you should be able to. The doctor also will look for signs of redness and swelling and ask if the area is painful. Your doctor may want to order X-rays of the foot to check for other causes of pain, to determine whether there is significant arthritis and to see if the bones are aligned properly.
Non Surgical Treatment
There are two ways to treat this pathological foot conditions, conservatively and surgically. Conservative treatment is the first line treatment which consists of splints and orthotic care to reduce the causative factors. Realigning the foot with the aid of an orthotic helps prevent further degeneration and/or reduce symptoms of HAV in any stage of its deformity. Along with orthotic care, patients may require debridement of corns and calluses produced due to extra forces produced on the foot. Orthotics will also help the function of the big toe joint as it allows it to bend in the correct position. Footwear advice is also essential in the conservative care of bunions, HAV, there may be a need to change footwear, so it is able to fit properly and be compliment with orthotics. Surgical correction of bunions, HAV is available, however should only be considered when conservative care has failed to reduce the onset of bunions, HAV. It is only considered if there is a clear sign that it will induce a better quality of life for the patient.
Surgical Treatment
As mentioned above, with mild cases, the bone is cut close to the big toe joint and shifted over into a correct position. The cut bone is held in placed with one or two surgical screws. With this procedure, just the top of the bone is moved over and the bottom of the bone remains in the same place. This technique is called the Austin bunionectomy and refers to type of bone cut that will be made by the Surgeon. There is, however, a limit on how far one can move the bone over with this technique. Its is generally thought that the cut bone should only be moved over a distance equal to half the width of the bone. In somes the bone may be moved over further.
Prevention
To minimize the chance of developing bunions, never force your feet into shoes that don?t fit. Choose a shoe that conforms to the shape of your foot. Opt for shoes with wider insteps, broad toes, and soft soles. Shoes that are short, tight, or sharply pointed should be avoided.